Gallery
A gallery of artwork by current Arena Art Group members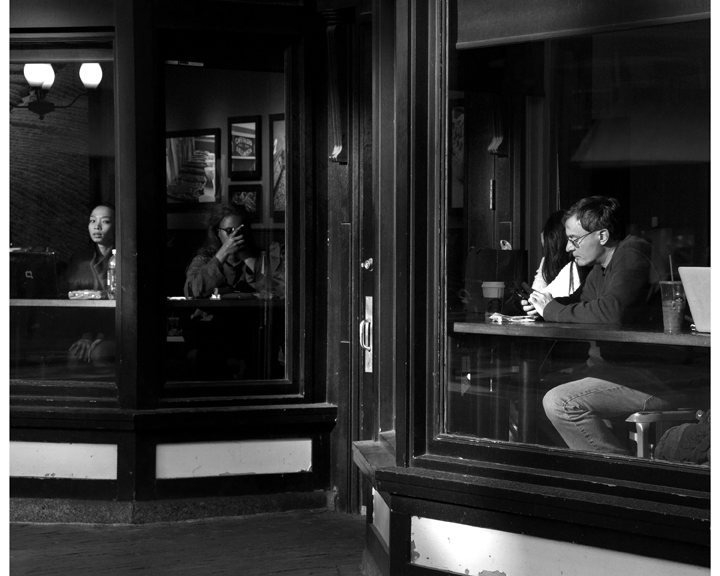 Cheryl Amati Martin
Starbucks Snoop, photography
American Way Collection is a "life's work", developed over the years and currently ongoing. Sometimes it's about providing the viewer with a glimpse at the passing of time. However, at a time when fewer of the images we see are an honest representation of real life, street photography provides a window on the world that actually surrounds us here and now. My casual street portrait images portray character and soul of the individual, transcending cultural and language barriers. Many of my photographs are individually hand colored. My commitment to photography is imbedded.
Paul Brandwein
Out of The Box, media used
I like to work in the space between figuration and abstraction. As much as I dislike labels, the term biomorphic abstraction may come close to what viewers see when they look at my work. I use a lot of different primal shapes and forms that remind many of biological, botanical or even celestial forms. I thrive on the challenge of making these contrasting forms, textures and colors work together. Whether the work is primarily sculptural or painterly I am trying to evoke and explore visceral feelings. Much of it is an attempt to evoke the mystery and exhilaration of growth and change as well as the desire for and fear of union. Viewers see many different things in my work and that's fine with me.
Liz Britton-Barry
Thawing, mixed on canvas
We dwell in a multi-dimensional universe that continues to expand my beliefs and concepts. My soul mission is to understand the relationship of my body, mind and spirit to the vibrational energy of earth and sky .
I continue to push my visual and sensual perceptions, moving away from my comfort zone to unexplored territory beginning to merge creative and healing art forms.
brittbarry@mac.com